Lab. Biophysical Chemistry, Dept. Biomolecular Chemistry (April, 2008 ü`)


---

Molecular Recognition Mechanisms by Proteins
ü|Protein Structure, Flexibility, and Functionü|
---
Masayuki Oda, Ph.D.

Graduate School of Life and Environmental Sciences, Kyoto Prefectural University
1-5, Hangi-cho, Shimogamo, Sakyo-ku, Kyoto 606-8522, Japan
TELüĽFAX: +81-75-703-5673, E-mail: odaüŚkpu.ac.jp
üyJapanese versionüz üyResearchmapüz üyORCiDüz
1.Members;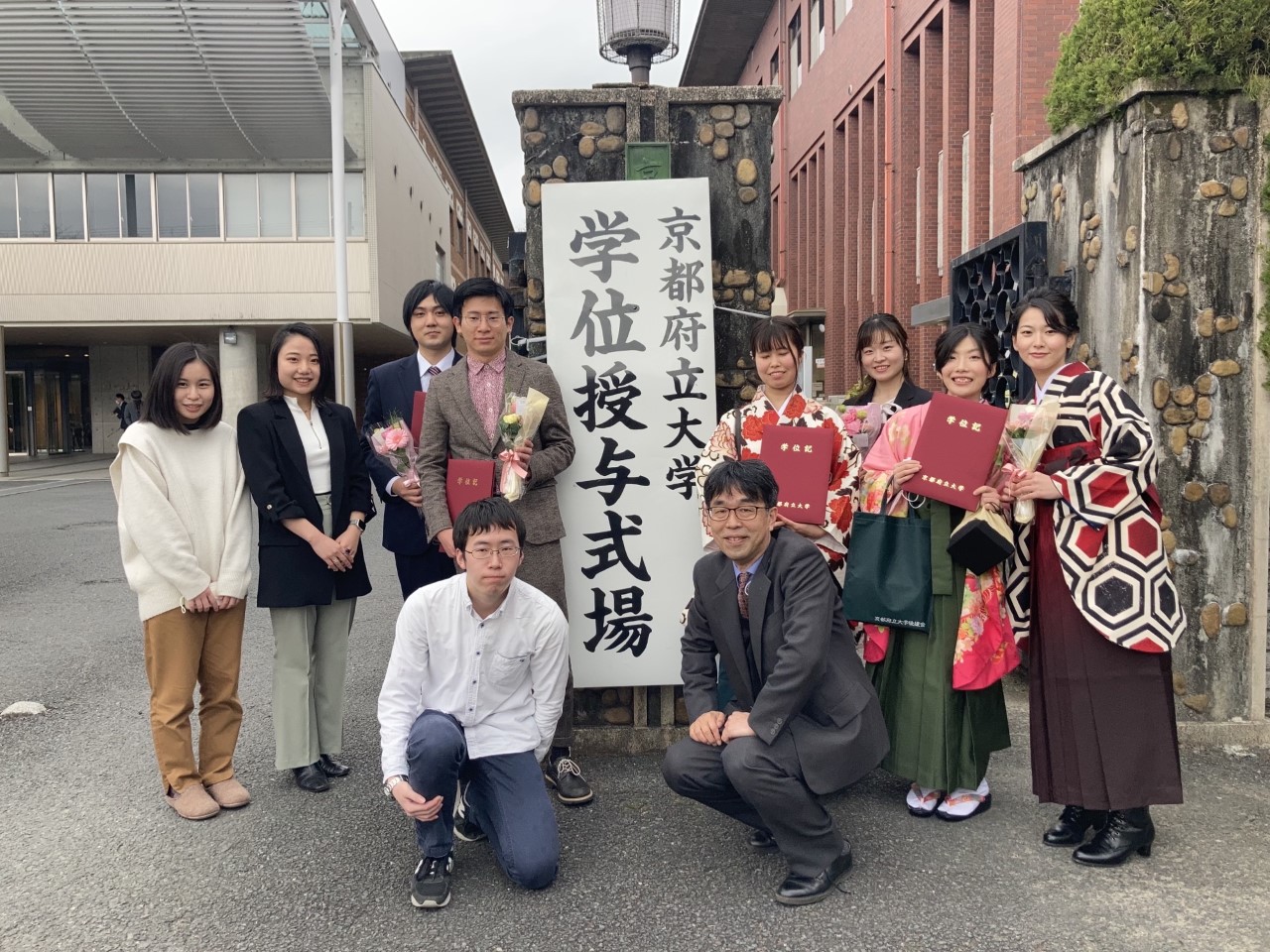 Masayuki Oda, Ph.D. (Professor)
Ayako Shiota (D3)
Naru Higeta (D2)
Saki Ochi (M1)
Yumi Kitagawa (M1)
Fumiya Kondo (B4)
Saaya Yabuno (B4)
Mutsumi Yoshida (B4)
Yoshiji Hantani, Ph.D. (Senior Researcher)
Takayuki Baba, Ph.D. (Senior Researcher)






Alumni;
Momoka Iiyama, Miho Emori, Takahiro Hayashi, Tomoyo Hira
Iori Murata, Maki Kawasaki, Akihiro Nishiguchi, Zengwei Liao, Masahiro Tanaka, Ikuko Iizumi
Akane Senga, Yuhi Hosoe, Takanori Yamaoka, Toshifumi Fujioka, Michiko Oka, Yuri Yamagami
Satomi Inaba Ph.D., Daiki Usui, Ayako Miki, Yusui Sato, Shohey Shimizu
Tomonari Tamashiro, Nobutaka Komichi, Yoko Shima, Shoko Motoki
Koki Yamamoto, Kazuki Hayashida, Chika Higashiura, Yoichi Tanabe Ph.D, Yusuke Tanaka
Tomoki Sano, Tomoyuki Sunahashi, Kotaro Hara, Asami Maruoka, Yuichiro Takagi
Kuniomi Nakamura, Yasutomo Inui, Hiromi Asada, Hidekazu Kaminaka, Keiko Watanabe
2. Research;
My research interests are related to understanding the correlation between protein
structure and function. We specifically focus on the protein flexibility, which is difficult
to determine but is critical for understanding protein structure ? function relationship.
To achieve our projects, we purify proteins, and analyze the physical properties and
molecular interactions using biophysical methods such as circular dichroism (CD),
isothermal titration calorimetry (ITC), and surface plasmon resonance (SPR) biosensor.
We analyze 3D structures and structural dynamics at atomic resolution using X-ray
crystallography and nuclear magnetic resonance (NMR). We also use dynamic light
scattering (DLS), differential scanning calorimetry (DSC), electron microscopy (EM),
small-angle X-ray scattering (SAXS), and diffracted X-ray tracking (DXT) for analyses.
The results can be applied in protein engineering to increase protein stability and
function, and further, for rational design of small molecules to inhibit molecular
interactions. The present targets for protein interactions are as follows.

2-1. Antibodies
Antibodies can recognize various shapes and sizes of antigens and have been used as
drugs. We overexpress and purify single-chain Fv (scFv) antibodies, and analyze the
structural dynamics and the antigen recognition mechanism. We also focus on the
affinity maturation of antibody. We generate mutants of scFv to analyze the role of
residue to increase the antigen-binding affinity.

2-2. CD28 family molecules and adapter proteins
To activate T cells, costimulatory signals via CD28-family molecules are required,
together with the signals via T-cell receptors. We overexpress and purify adaptor
proteins, Grb2, Gads, PI3K, and their SH2 domains, and analyze their molecular
interactions with the intracellular regions of CD28, ICOS, and CTLA-4. The structural
information can be correlated with the phenomenon of signal transduction.

2-3. Endo-1,3-â└-glucanase
Endo-1,3-â└-glucanase from Cellulosimicrobium cellulans is composed of a catalytic
domain and a carbohydrate-binding module. We overexpress and purify the respective
domains and their mutants, and analyze the catalytic function and the carbohydrate
recognition mechanism. In addition, we also design mutants to modulate catalytic
function and carbohydrate binding.

2-4. Cutinase-like enzyme (Cut190)
The Cut190 enzyme from Saccharomonospora viridis AHK190 can degrade the inner
block of polyethylene terephthalate (PET) in the presence of Ca2+. We overexpress and
purify Cut190 and its mutants to analyze the mechanism of increased activity and
stability by Ca2+ binding. Crystal structural analysis so far indicates that Cut190
fluctuates in solution and the specific conformers are increased upon Ca2+ binding.

2-5. Retro-aldolase
RA61 is a de novo designed retro-aldolase. We overexpress and purify RA61 and its
mutants, and analyze their structural and functional properties in more detail. Based on
the results, we deign enzymes with increased activity. We also apply these enzymes to
evaluate newly synthesized substrate for the aldolase and retro-aldolase reactions.

2-6. 3â┐-Hydroxysteroid dehydrogenase
The NAD(P)+-dependent enzyme, 3â┐-HSD, catalyzes the reversible interconversion of
hydroxy and oxo groups at position 3 of the steroid nucleus. We overexpress and purify
3â┐-HSD and its mutants, and analyze the mechanism of nucleotide-cofactor recognition
and its correlation with catalytic function. We focus on the conformational change of
3â┐-HSD induced upon cofactor binding, and the allosteric binding of the cofactor.

2-7. DNA-binding protein
The DNA-binding domain of transcriptional factor, c-Myb, consists of three imperfect
tandem repeats, R1, R2, and R3, and R2R3 is necessary for specific DNA-binding. We
have shown that R2R3 fluctuates largely in solution like a semi-intrinsically disordered
protein, which is critical for its function under physiological conditions. We overexpress
and purify R2R3 and its mutants, and analyze the structural dynamics.

2-8. Helix-bundle protein
We design simple model peptides whose structures changes from random-coil to
helix-bundle structures by forming a stable hydrophobic core in the presence of metal
ions. We overexpress and purify the peptides, and analyze their structural dynamics.
One of the main purposes is to correlate the structural ensemble with the information
determined from single-molecule analysis.


3. Publications;
Nishiguchi, A., Murakami, A., Azuma, T., and Oda, M. (2022) A trade-off between
thermostability and binding affinity of anti-(4-hydroxy-3-nitrophenyl)acetyl antibodies
during the course of affinity maturation. Protein J. 41. 293-303.

Ochi, S., Iiyama, M., and Oda, M. (2022) Interdomain interactions in Grb2 revealed by
the conformational stability and CD28 binding analysis. Biophys. Chem. 284, 106792.

Liao, Z., Oyama, T., Kitagawa, Y., Katayanagi, K., Morikawa, K., and Oda, M. (2022)
Pivotal role of a conserved histidine of Escherichia coli ribonuclease HI as proposed
by X-ray crystallography. Acta Crystallogr. D78, 390-398. [PDF]

Oda, M., Sano, T., Kamatari, Y.O., Abe, Y., Ikura, T., and Ito, N. (2022) Structural analysis of
hen egg lysozyme refolded after denaturation at acidic pH. Protein J. 41 (1), 71-78.

Fujioka, T.*, Numoto, N.*, Akama, H.*, Shilpa, K.*, Oka, M., Roy, P.K., Krishna, Y., Ito, N.,
Baker, D., Oda, M., and Tanaka, F. (2022) Varying the directionality of protein catalysts for
aldol and retro-aldol reactions. ChemBioChem, 23 (2), e202100435. (*equal contributors)

Kawasaki, M. and Oda, M. (2021) Effects of chain length, temperature, and ionic strength
on association and dissociation thermodynamics of DNA. Chem. Thermodyn. Thermal Anal. 3-4, 100015. [PDF]

Hosoe, Y.*, Sekiguchi, H.*, Sasaki, Y.C., and Oda, M. (2021) Structural dynamics of
a DNA-binding protein analyzed using diffracted X-ray tracking. Biophys. Chem. 278, 106669.
(*equal contributors)üiCover Illustration)

Tanaka, M., Kato, T., and Oda, M. (2021) Conformational changes of â┐-helical peptides with
different hydrophobic residues induced by metal-ion binding. Biophys. Chem. 277, 106661.

Hayashi, T., Kawasaki, M., Kamatari, Y.O., and Oda, M. (2021) Single-chain Fv antibody
covalently linked to antigen peptides and its structural evaluation. Anal. Biochem. 629, 114312.

Oda, M. (2021) Structural basis for Ca2+-dependent catalysis of a cutinase-like enzyme
and its engineering: application to enzymatic PET depolymerization. Biophys. Physicobiol. 18, 168-176. [PDF]

Kawasaki, M. and Oda, M. (2021) DNA-binding function of c-Myb R2R3 around thermal
denaturation temperature. Biophys. Physicobiol. 18, 78-84. [PDF]

Liao, Z., Senga, A., Kawai, F., and Oda, M. (2020) Effects of residue 107 of the PET
hydrolase Cut190 on its activity and thermal stability. Current Topics in Peptide & Protein
Research 21, 69-74.

Emori, M.*, Numoto, N.*, Senga, A., Bekker, G.-J., Kamiya, N., Kobayashi, Y., Ito, N.,
Kawai, F., and Oda, M. (2021) Structural basis of mutants of PET-degrading enzyme from
Saccharomonospora viridis AHK190 with high activity and thermal stability. Proteins 89 (5), 502-511.
(*equal contributors)

Iiyama, M.*, Numoto, N.*, Ogawa, S., Kuroda, M., Morii, H., Abe, R., Ito, N., and Oda, M.
(2021) Molecular interactions of the CTLA-4 cytoplasmic region with the
phosphoinositide 3-kinase SH2 domains. Mol. Immunol. 131, 51-59. (*equal contributors)

Senga, A.*, Numoto, N.*, Yamashita, M., Iida, A., Ito, N., Kawai, F., and Oda, M. (2021)
Multiple structural states of Ca2+ regulated PET hydrolase, Cut190, and its correlation
with activity and stability. J. Biochem. 169 (2) 207-214. (*equal contributors)

Kawai, F., Kawabata, T., and Oda, M. (2020) Current state and perspectives related to
the PET hydrolases available for biorecycling. ACS Sustainable Chem. Eng. 8 (24), 8894-8908.

Kawasaki, M., Hosoe, Y., Kamatari, Y.O., and Oda, M. (2020) Naive balance between
structural stability and DNA-binding ability of c-Myb R2R3 under physiological
ionic conditions. Biophys. Chem. 258, 106319.

Yamaoka, T., Kamatari, Y.O., Maruno, T., Kobayashi, Y., and Oda, M. (2020) Structural and
functional evaluation of single-chain Fv antibody HyC1 recognizing the residual native
structure of hen egg lysozyme. Biosci. Biotechnol. Biochem. 84 (2), 358-364.

Nishiguchi, A.*, Numoto, N.*, Ito, N., Azuma, T., and Oda, M. (2019) Three-dimensional
structure of a high affinity anti-(4-hydroxy-3-nitrophenyl)acetyl antibody possessing a glycine
residue at position 95 of the heavy chain. Mol. Immunol. 114, 545-552. (*equal contributors)

Senga, A.*, Hantani, Y.*, Bekker, G.-J., Kamiya, N., Kimura, Y., Kawai, F., and Oda, M. (2019)
Metal binding to cutinase-like enzyme from Saccharomonospora viridis AHK190 and its effects
on enzyme activity and stability. J. Biochem. 166 (2), 149-156. (*equal contributors)

Inaba, S., Shiota, S., Yoshida, T., and Oda, M. (2019) Site-specific observation of
the conformational change of a protein with 15N-labeled Tyr residues using NMR.
Anal. Biochem. 574, 34-38.

Hosoe, Y., Numoto, N., Inaba, S., Ogawa, S., Morii, H., Abe, R., Ito, N., and Oda, M.
(2019) Structural and functional properties of Grb2 SH2 dimer in CD28 binding.
Biophys. Physicobiol. 16, 80-88. [PDF]

Hantani, Y., Imamura, H., Yamamoto, T., Senga, A., Yamagami, Y., Kato, M., Kawai, F.,
and Oda, M. (2018) Functional characterizations of polyethylene terephthalate-degrading
cutinase-like enzyme Cut190 mutants using bis(2-hydroxyethyl) terephthalate
as the model substrate. AIMS Biophysics 5 (4), 290-302.

Oda, M., Yamagami, Y., Inaba, S., Oida, I., Yamamoto, M., Kitajima, S., and Kawai, F.
(2018) Enzymatic hydrolysis of PET: Functional roles of three Ca2+ ions
bound to a cutinase-like enzyme, Cut190*, and its engineering for
improved activity. Appl. Microbiol. Biotech. 102 (23), 10067-10077.

Numoto, N., Kamiya, N., Bekker, G.-J., Yamagami, Y., Inaba, S., Ishii, K., Uchiyama, S.,
Kawai, F., Ito, N., and Oda, M. (2018) Structural dynamics of the PET-degrading cutinase-
like enzyme from Saccharomonospora viridis AHK190 in substrate-bound states
elucidates the Ca2+-driven catalytic cycle. Biochemistry 57 (36), 5289-5300.

Hantani, Y., Motoki, S., Miyagawa, A, Yamamura, H., and Oda, M. (2018)
Transglycosylation activity of catalytic domain mutant of endo-1,3-â└-glucanase
from Cellulosimicrobium cellulans. Protein & Peptide Letters 25 (8), 734-739.

Hosoe, Y.*, Inaba, S.*, Sekiguchi, H., Sasaki, Y.C., and Oda, M. (2018) DNA-binding
induced conformational change of c-Myb R2R3 analyzed using diffracted X-ray tracking.
Biochem. Biophys. Res. Commun. 503, 338-343. (*equal contributors)

Shiota, A., Inaba, S., and Oda, M. (2018) Effects of active site residues of 3â┐-hydroxysteroid
dehydrogenase from Pseudomonas sp. B-0831 on its catalysis and cofactor binding.
Biosci. Biotechnol. Biochem. 82 (10), 1702-1707.

Inaba, S., Kamiya, N., Bekker, G.-J., Kawai, F., and Oda, M. (2019) Folding thermodynamics
of PET-hydrolyzing enzyme Cut190 depending on Ca2+ concentration.
J. Therm. Anal. Calorim. 135 (5), 2655-2663.

Oda, M., Xi, Z., Inaba, S., Slack, R.L., and Ishima, R. (2019) Binding thermodynamics
of metal ions to HIV-1 ribonuclease H domain. J. Therm. Anal. Calorim. 135 (5), 2647-2653.

Oda, M., Inaba, S., Kamiya, N., Bekker, G.-J., and Mikami, B. (2018) Structural and
thermodynamic characterization of endo-1,3-â└-glucanase: Insights into the substrate
recognition mechanism. BBA - Proteins and Proteomics 1866 (3), 415-425.

Inaba, S., Fukada, H., and Oda, M. (2018) Effect of a salt-bridge between inter-repeats on
the 3D structure of the c-Myb DNA-binding domain revealed by thermodynamic analysis.
J. Therm. Anal. Calorim. 131 (1), 335-341.

Usui, D., Inaba, S., Sekiguchi, H., Sasaki, Y. C., Tanaka, T., and Oda, M. (2017)
First observation of metal ion-induced structural fluctuations of â┐-helical peptides
by using diffracted X-ray tracking. Biophys. Chem. 228, 81-86.

Usui, D., Inaba, S., Kamatari, Y. O., Ishiguro, N., and Oda, M. (2017) Light-chain
residue 95 is critical for antigen binding and multispecificity of monoclonal antibody G2.
Biochem. Biophys. Res. Commun. 490, 1205-1209.

Sato, Y., Inaba, S., Fukada, H., Azuma, T., and Oda, M. (2017) Pronounced effect of
hapten binding on thermal stability of an anti-(4-hydroxy-3-nitrophenyl)acetyl antibody
possessing a glycine residue at position 95 of the heavy chain. Mol. Immunol. 85, 130-136.

Kawabata, T., Oda, M., and Kawai, F. (2017) Mutational analysis of cutinase-like enzyme,
Cut190, based on the 3D docking structure with model compounds of polyethylene
terephthalate. J. Biosci. Bioeng. 124 (1), 28-35.

Miki, A., Inaba, S., Maruno, T., Kobayashi, Y., and Oda, M. (2017) Tryptophan
introduction can change â└-glucan binding ability of the carbohydrate-binding module
of endo-1,3-â└-glucanase. Biosci. Biotechnol. Biochem. 81 (5), 951-957.

Inaba, S.*, Numoto, N.*, Ogawa, S., Morii, H., Ikura, T., Abe, R., Ito, N., and Oda, M. (2017)
Crystal structures and thermodynamic analysis reveal distinct mechanisms of CD28 phosphopeptide
binding to the Src homology 2 (SH2) domains of three adaptor proteins.
J. Biol. Chem. 292 (3), 1052-1060. (*equal contributors)

Sato, Y.*, Tanaka, Y.*, Inaba, S., Sekiguchi, H., Maruno, T., Sasaki, Y.C., Fukada, H., Kobayashi, Y.,
Azuma, T., and Oda, M. (2016) Structural dynamics of a single-chain Fv antibody against
(4-hydroxy-3-nitrophenyl)acetyl. Int. J. Biol. Macromol. 91, 151-157. (*equal contributors)

Oda, M. and Kuroda, M. (2016) Molecular dynamics simulations of inclusion complexation
of glycyrrhizic acid and cyclodextrins (1:1) in water. J. Incl. Phenom. Macro. Chem. 85, 271-279.

Oda, M., Tsumuraya, T, and Fujii, I. (2016) Effects of substrate conformational strain
on binding kinetics of catalytic antibody. Biophys. Physicobiol. 13, 135-138. [PDF]

Oda, M., and Azuma, T. (2016) Affinity maturation of anti-(4-hydroxy-3-nitrophenyl)acetyl
antibodies accompanies a modulation of antigen specificity. Mol. Immunol. 270, 8-12.

Inaba, S., Fukada, H., and Oda, M. (2016) Folding thermodynamics of c-Myb DNA-binding
domain in correlation with its â┐-helical contents. Int. J. Biol. Macromol. 82, 725-732.

Inaba, S., Maeno, A., Sakurai, K., Puthenpurackal, S. N., Ikegami, T., Akasaka, K.,
and Oda, M. (2015) Functional conformer of c-Myb DNA-binding domain
revealed by variable temperature studies. FEBS J. 282 (23), 4497-4514.[PDF]

Inaba, S., Fukada, H., and Oda, M. (2016) Thermodynamic effects of a linker region
between two repeats of a protein, c-Myb R2R3, on its stability and structural dynamics.
J. Therm. Anal. Calorim. 123, 1763-1767.

Miki, A.*, Inaba, S.*, Baba, T., Kihira, K., Fukada, H., and Oda, M. (2015)
Structural and physical properties of collagen extracted from moon jellyfish under
neutral pH conditions. Biosci. Biotechnol. Biochem. 79 (10), 1603-1607. (*equal contributors)

Adhikary, R., Yu, W., Oda, M., Walker, R.C., Chen, T., Stanfield, R.L., Wilson, I.A.,
Zimmermann, J., and Romesberg, F.E. (2015) Adaptive mutations alter antibody
structure and dynamics during affinity maturation. Biochemistry 54 (11), 2085-2093.

Kawai, F., Oda, M., Tamashiro, T., Waku, T., Tanaka, N., Yamamoto, M., Mizushima, H.,
Miyakawa, T., and Tanokura, M. (2014) A novel Ca2+-activated, thermostabilized polyesterase
capable of hydrolyzing polyethylene terephthalate from Saccharomonospora viridis AHK190.
Appl. Microbiol. Biotech. 98 (24), 10053-10064.

Kamatari, Y. O., Ohta, S., Inoshima, Y., Oda, M., Maruno, T., Kobayashi, Y., and Ishiguro, N. (2014)
Identification and characterization of a multispecific monoclonal antibody G2 directed
against chicken prion protein. Protein Sci. 23 (8), 1050-1059.

Izutani, Y. Kanaori, K., and Oda, M. (2014) Aggregation property of glycyrrhizic acid
and its interaction with cyclodextrins analyzed by dynamic light scattering,
isothermal titration calorimetry, and NMR. Carbohydr. Res. 392, 25-30.

Inaba, S., Fukada, H., Ikegami, T., and Oda, M. (2013)
Thermodynamic effects of multiple protein conformations on stability and DNA binding.
Arch. Biochem. Biophys. 537 (2), 225-232.

Adhikary, R., Yu, W., Oda, M., Zimmermann, J., and Romesberg, F.E. (2012)
Protein dynamics and the diversity of an antibody response. J. Biol. Chem. 287 (32), 27139-27147. [PDF]

Tamashiro, T., Tanabe, Y., Ikura, T., Ito, N., and Oda, M. (2012)
Critical roles of Asp270 and Trp273 in the â┐-repeat of the carbohydrate-binding module
of endo-1,3-â└-glucanase for laminarin-binding avidity. Glycoconj. J. 29 (1), 77-85.

Tanabe, Y., and Oda, M. (2011) Molecular characterization of endo-1,3-â└-glucanase from
Cellulosimicrobium cellulans: effects of carbohydrate-binding module on enzymatic function
and stability. Biochimica et Biophysica Acta - Proteins and Proteomics, 1814 (12), 1713-1719.

Oda, M., Kitai, A., Murakami, A., Nishimura, M., Ohkuri, T., Abe, Y., Ueda, T.,
Nakamura, H., and Azuma, T. (2010) Evaluation of the conformational equilibrium of
reduced hen egg lysozyme by antibodies to the native form.
Arch. Biochem. Biophys. 494 (2), 145-150.

Oda, M., Saito, M., Tsumuraya, T, and Fujii, I. (2010) Contribution of the trifluoroacetyl
group in the thermodynamics of antigen-antibody binding. J. Mol. Recognit. 23 (3), 263-270.

Oda, M.*, Uchiyama, S.*, Noda, M., Nishi, Y., Koga, M., Mayanagi, K.,
Robinson, C.V., Fukui, K., Kobayashi, Y., Morikawa, K., and Azuma, T. (2009)
Effects of antibody affinity and antigen valence on the molecular forms of
immune complexes. Mol. Immunol. 47 (2-3), 357-364. (*equal contributors)

Tanabe, Y., Pang, Z., and Oda, M. (2008) Cloning and sequencing of endo-1,3-â└-
glucanase from Cellulosimicrobium cellulans. J. Biol. Macromol. 8 (3), 60-63. [PDF]

Thielges, M.C., Zimmermann, J., Yu, W., Oda, M., and Romesberg, F.E. (2008)
Exploring the energy landscape of antibody-antigen complexes:
Protein dynamics, flexibility, and molecular recognition.
Biochemistry 47 (27), 7237-7247.

Oda, M., Ito, N., Tsumuraya, T., Suzuki, K., Sakakura, M., and Fujii, I. (2007)
Thermodynamic and structural basis for transition-state stabilization in
antibody-catalyzed hydrolysis. J. Mol. Biol. 369 (1), 198-209.

Nakamura, S., Oda, M., Kataoka, S., Ueda, S., Uchiyama, S., Yoshida, T., Kobayashi, Y.,
and Ohkubo, T. (2006) Apo- and holo-structures of 3â┐-hydroxysteroid dehydrogenase
from Pseudomonas sp. B-0831: Loop-helix transition induced by coenzyme
binding. J. Biol. Chem. 281 (42), 31876-31884. [PDF]

Kataoka, S., Nakamura, S., Ohkubo, T., Ueda, S., Uchiyama, S., Kobayashi, Y., and Oda, M.
(2006) Crystallization and preliminary X-ray analysis of the complex of NADH and
3â┐-hydroxysteroid dehydrogenase from Pseudomonas sp. B-0831.
Acta Crystallogr. F62, 569-571. [PDF]

Oda, M., Uchiyama, S., Robinson, C.V., Fukui, K., Kobayashi, Y., and Azuma, T. (2006)
Regional and segmental flexibility of antibodies in interaction with antigens of
different size. FEBS J. 273 (7), 1476-1487.

Izutani, Y., Kanaori, K., Imoto, T., and Oda, M. (2005) Interaction of gymnemic acid
with cyclodextrins analyzed by isothermal titration calorimetry, NMR, and
dynamic light scattering. FEBS J. 272 (23), 6154-6160. [PDF]

Pang, Z., Otaka, K., Maoka, T., Hidaka, K., Ishijima, S., Oda, M., and Ohnishi, M. (2005)
Structure of â└-glucan oligomer from laminarin and its effect on human monocytes
to inhibit the proliferation of U937 cells. Biosci. Biotechnol. Biochem. 69 (3), 553-558. [PDF]

Saito, M., Okazaki, I., Oda, M., and Fujii, I. (2005) A free energy calculation study of
the effect of HüĘF substitution on binding affinity in ligand-antibody interactions.
J. Comp. Chem. 26 (3), 272-282.

Pang, Z., Kang, Y.-N., Ban, M., Oda, M., Kobayashi, R., Ohnishi, M., and Mikami, B. (2005)
Crystallization and preliminary crystallographic analysis of endo-1,3-â└-glucanase
from Arthrobacter sp. Acta Crystallog. F61, 68-70. [PDF]

Sagawa, T., Oda, M., Morii, H., Takizawa, H., Kozono, H., and Azuma, T. (2005)
Conformational changes in the antibody constant domains upon hapten binding.
Mol. Immunol. 42 (1), 9-18.

Saito, K.*, Oda, M.*, Sarai, A., Azuma, T, and Kozono, H. (2004) Bound peptide-dependent
thermal stability of major histocompatibility complex class II molecule I-Ek.
Biochemistry 43 (31), 10186-10191. (*equal contributors)

Oda, M., Sato-Nakamura, N., and Azuma, T. (2004) Molecular characterization of
monovalent and multivalent hapten-protein conjugates for analysis of the antigen-
antibody interaction. Anal. Biochem. 333 (2), 365-371.

Ueda, S., Oda, M., Imamura, S., and Ohnishi, M. (2004) Kinetic study of the enzymatic
cycling reaction conducted with 3â┐-hydroxysteroid dehydrogenase in the presence of
excessive thio-NAD+ and NADH. Anal. Biochem. 332 (1), 84-89.

Ueda, S., Oda, M., Imamura, S., and Ohnishi, M. (2004) Transient-phase kinetic
studies on the nucleotide binding to 3â┐-hydroxysteroid dehydrogenase from
Pseudomonas sp. B-0831 using fluorescence stopped-flow procedures.
Eur. J. Biochem. 271 (9), 1774-1780. [PDF]

Saito, K., Oda, M., Sarai, A., Azuma, T, and Kozono, H. (2004) Contribution of
a single hydrogen bond between â└His81 of MHC class II I-Ek and
the bound peptide to the pH-dependent thermal stability. Micro. Immunol. 48 (1), 53-57.

Tobita, T.*, Oda, M.*, and Azuma, T. (2004) Segmental flexibility and avidity of IgM
in the interaction of polyvalent antigens. Mol. Immunol. 40 (11), 803-811. (*equal contributors)

Saito, K., Sarai, A., Oda, M., Azuma, T, and Kozono, H. (2003) Thermodynamic analysis
of the increased stability of major histocompatibility complex class II molecule I-Ek
complexed with an antigenic peptide at acidic pH. J. Biol. Chem. 278 (17), 14732-14738. [PDF]

Oda, M., Kozono, H., Morii, H., and Azuma, T. (2003) Evidence of allosteric
conformational changes in the antibody constant region upon antigen binding.
Int. Immunol. 15 (3), 417-426. [PDF]

Sagawa, T., Oda, M., Ishimura, M., Furukawa, K., and Azuma, T. (2003) Thermodynamic
and kinetic aspects of antibody evolution during the immune response to hapten.
Mol. Immunol. 39 (13), 801-808.

Tobita, T., Oda, M., Morii, H., Kuroda, M., Yoshino, A., Azuma, T., and Kozono, H. (2003)
A role for the P1 anchor residue in the thermal stability of MHC class II molecule
I-Ab. Immunol. Lett. 85 (1), 47-52.

Oda, M., and Azuma, T. (2000) Reevaluation of stoichiometry and affinity/avidity
in interactions between anti-hapten antibodies and mono- or multi-valent antigens.
Mol. Immunol. 37 (18), 1111-1122.

Oda, M., and Nakamura, H. (2000) Thermodynamic and kinetic analyses for understanding
sequence-specific DNA recognition. Genes to Cells 5 (5), 319-326.

Oda, M., Furukawa, K., Sarai, A., and Nakamura, H. (1999) Construction of
an artificial tandem protein of the c-Myb DNA-binding domain and analysis
of its DNA binding specificity. Biochem. Biophys. Res. Commun. 262 (1), 94-97.

Oda, M., Furukawa, K., Sarai, A., and Nakamura, H. (1999) Kinetic analysis of
DNA binding by the c-Myb DNA-binding domain using surface plasmon resonance.
FEBS Lett. 454 (3), 288-292.

Oda, M., Shiraishi, A., and Hasegawa, M. (1998) Analysis of the ternary complex
formation of human urokinase with the separated two domains of its receptor.
Eur. J. Biochem. 256 (2), 411-418. [PDF]

Oda, M., Furukawa, K., Ogata, K., Sarai, A., and Nakamura, H. (1998) Thermodynamics
of specific and non-specific DNA binding by the c-Myb DNA-binding domain.
J. Mol. Biol. 276 (3), 571-590.

Oda, M., Furukawa, K., Ogata, K., Sarai, A., Ishii, S., Nishimura, Y., and Nakamura, H. (1997)
Identification of indispensable residues for specific DNA-binding in the imperfect
tandem repeats of c-Myb R2R3. Protein Eng. 10 (12), 1407-1414.üiCover Illustration) [PDF]

Oda, M., Furukawa, K., Ogata, K., Sarai, A., Ishii, S., Nishimura, Y., and Nakamura, H. (1997)
Investigation of the pyrimidine preference by the c-Myb DNA-binding domain at the initial
base of the consensus sequence. J. Biol. Chem. 272 (29), 17966-17971. [PDF]

---
Last updatedüG May 21, 2022